Jewelry Repairs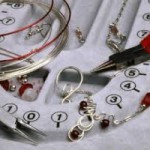 Adjustments and jewelry repairs are available for jewelry purchased from Edelstein Jewels.  Jewelry that needs a size adjustment or breaks during the course of normal wear (i.e., a car did not run over it or it wasn't extracted from the garbage disposal).
Please send an email to request a repair along with a phone number were you can be reached.   Attaching a photo of the item to be repaired will help to understand if I have the beads or jewelry components in stock to do the repair.
I will call you and provide mailing instructions and give an estimate on the time to do the repair.
Your jewelry will be returned to you as soon as possible. Repair turnaround usually takes 1-3 weeks depending on availability of the jewelry components.