Jewelry can be delicate, but with proper care it will last for years. Wearing, storing and cleaning your jewelry properly will preserve its beauty and extend its life. To ensure this, please read the jewelry care advice below from the American Gem Society.
Wearing Jewelry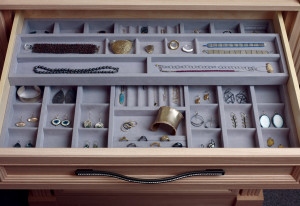 Prevent damage to your jewelry by avoiding exposure to extreme conditions.  Avoid exposing jewelry to heat, exercise equipment, cleaning solutions, chlorine bleach and ultrasonic cleaners.  Opaque stones (e.g. coral, opal, pearl, mother-of-pearl, turquoise, amber, obsidian, jet, and lapis) are softer, fragile and should not be worn in or cleaned with water.  Apply hair spray, sunscreen, lotion or perfume and allow them to dry before putting on jewelry.  Avoid banging or dropping jewelry as this could cause damage to gemstone or glass beads.
Storing Jewelry

Keep your most delicate jewelry in a special bag, box or drawer.  Place silver jewelry in tarnish proof plastic bags as it tarnishes or darkens over time when exposed to air. Gold-filled jewelry is not prone to tarnish, but storing it properly will prevent the finish from dulling and scratches.  Storing one piece of jewelry per bag will help to prevent gemstone or pearls scratches.
Cleaning Jewelry
Clean silver, gold-filled, or brass jewelry with a solution of 1 tsp. mild liquid soap and warm water, gently rub with a soft cloth. Polish silver pieces with delicate stones or pearls, with a damp cloth. Clean oxidized silver jewelry with a damp cloth to preserve its finish. Liquid tarnish removers and jewelry cleaners are not recommended for gemstones and trade beads.